Working at Giant Fox
At Giant Fox we are a bit stubborn. Especially when we think things can be done in a smarter way. With our roots as software developers and years of experience in ICT, we know the tricks of the trade; working long hours, often with little regard for your personal development, job satisfaction or private life.
We believe that this can be done differently. We believe that you work to live rather than live to work.
The Giant Fox model
How does the Giant Fox model actually work?
At Giant Fox, everyone knows their own hourly rate, the number of hours worked and, with a simple calculation, also the (monthly) income. This income is processed as follows: one part goes to your chosen salary, one part goes to Giant Fox (10% + 1/3 monthly salary) and the rest goes into your personal bonus budget.
You can use this bonus for everything that makes your work as great, healthy and enjoyable as possible. You can spend it on transport, workplace design, personal development, pension and / or basically anything else you would like in terms of perks. We have never refused anything 😉
In addition to freedom, this construction also provides tax advantages: by not immediately paying out the net bonus, you do not have to pay full (wage) tax on it. In the end you get more value for your money. Nice huh?
At the end of the year, whatever remains of the bonus is paid out. Would you rather have it handed to you in cold hard cash sooner? That is, of course, no problem either.
What about if I don't have an assignment, I am ill or I am traveling? Then we simply continue to pay you the salary you have chosen. This way you always enjoy sufficient security.
Curious about your income?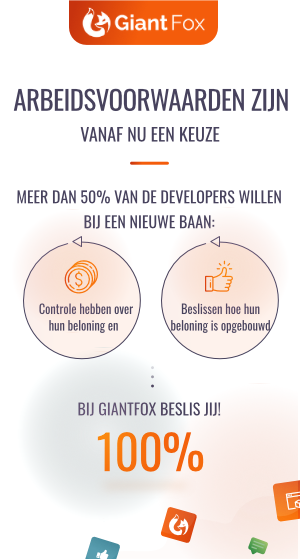 No standard employment terms
As a GIANT, you get the freedom of a freelancer with all the security of a permanent job. At Giant Fox we do not offer you a standard employment contract. We prefer to see what your personal needs are. For example, you decide yourself how much salary you want and how many leave days you need.
We also determine together whether you want to work part-time or full-time. At home or on site. Whether you prefer to invest in education, save money for your child or drive a fancy lease car. But hey, even if you think it is necessary to go to work by helicopter, be our guest!
Flexible hours
How would you prefer to organize your working hours? We understand that you want flexibility at certain times in your life.
Are you about to have children? Then your priorities can shift. Do you want to start later or get home earlier? Taking a trip after a long project? Have more time for your favorite sport?
At Giant Fox, we determine the design of your hours together, so that your energy remains high at all times.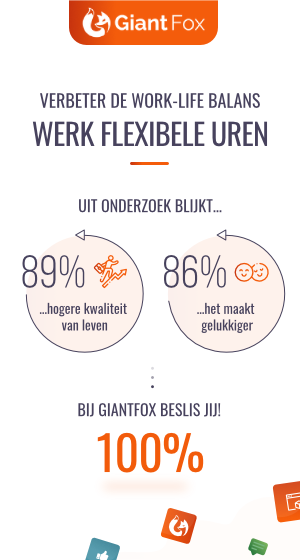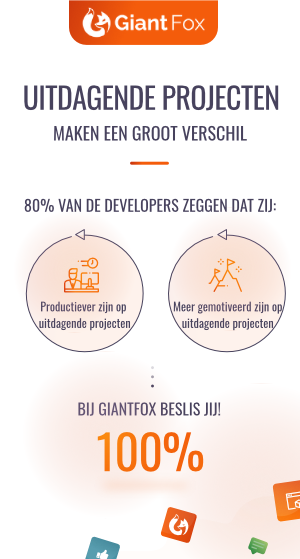 Develop yourself
Great developers are smart people. We understand that you are looking for a challenge. In fact, that is precisely why you choose to work as a software consultant. This way you can regularly start a new project.
At Giant Fox we attach great importance to preserving your energy. Does a project no longer feel appropriate or do you want to develop yourself further with coaching, training or a course? Then we we will determine together how we can optimally serve your needs.
Set our course together
At least once a year we get together with all the GIANTS in "a hut on the heath". Here we discuss what can be improved and what will be the course for the following year. Of course we also celebrate our successes and share learning points, knowledge and experience.
What type of GIANT are you?
GIANTS are characterized by their drive for technology. People who like to be engaged by their profession and want to know everything about it. A GIANT is a developer who is not committed to only one language or environment. They like to explore whether newer technology is actually better.
GIANTS enjoy working in teams and are able to take on multiple roles in a DevOps team. One minute you're creating the user stories, the next you're launching software. In between, you develop both the functionality and the unit tests to ensure the software quality remains high.
GIANTS also find private life very important. Working in our profession is awesome, but certainly not the only thing in the world!
Do you have about 6 years of experience in app development, embedded systems, web development or a combination of these fields? Does our philosophy and way of working appeal to you? Let us know!
Powerstart with XII Waves
GIANTS take ownership of their success. To support you in this, you go through the online leadership program XII Waves. This 12-week program combines the best practices of multiple methods and philosophies into a tight and holistic framework. In a few hours a week you will learn both physically and mentally everything about tools and techniques (such as SCRUM and Agile) to achieve not only your business goals, but also your personal goals.